FASCIAL FULL
®
Save Your Hands
Choose between 2 versions

Reasons to choose Fascial Full®
It makes your Fascia and soft tissue treatments BETTER and more SELECTIVE.
It will be easy, quick and convenient for you to disinfect and clean after each use.
You will be able to "surgically" adapt the instrument to the treatment and anatomical region to be treated thanks to its studied and patented design and its 3 different tips, the handle itself is a working tool. Absolute selectivity, control and precision at every stage of work.
Fascial Full® is a complete tool in one IASTM.
It is the first IASTM certified for medical use.
Save your hands! The only IASTM with the SaveYourHands System!
Easy for you to Use and Carry.
It is MULTI-VALENT: you can implement it in your work with any Technique or Method codified in Manual Therapy.
Because it's Fascial Full®. The original.
The Fascial Full® numbers
Improving quality in work
You won't have to worry about anything because for you this is a 100% PROTECTED investment.
You are fully protected by my full warranty. All you have to do is try and verify.
You will immediately have at your disposal the Guide to operating methods that you can download and read whenever you want (and which alone is worth 27€).
And if you don't think it's an absolutely valid tool for your professional growth, you can request a full refund within 30 days without having to provide any explanation.
With Fascial Full® you can better treat fascia and soft tissue and prevent and eliminate pain and problems in your hands.
No other IASTM can do this because no other IASTM has the technological and constructional features of Fascial Full®.
Fascial Full® is the First Professional IASTM with an Ergonomics designed to eliminate functional overload and pain in your hands featuring the SaveYourHand System, which also improves the effectiveness, efficiency, precision and selectivity of your Fascial and soft tissue treatments.
Fascial Full® Med is the aeronautical aluminium version certified for medical use, suitable for Health Professionals for support in the treatment of diseases and dysfunctions.
Fascial Full® Pro is the surgical steel version, suitable for Professionals working in the field of prevention and wellness.
Same concept, different features.
Aeronautical Aluminium (Light and HOT)
PDF operating mode Guide included
Only 3 left in stock (can be backordered)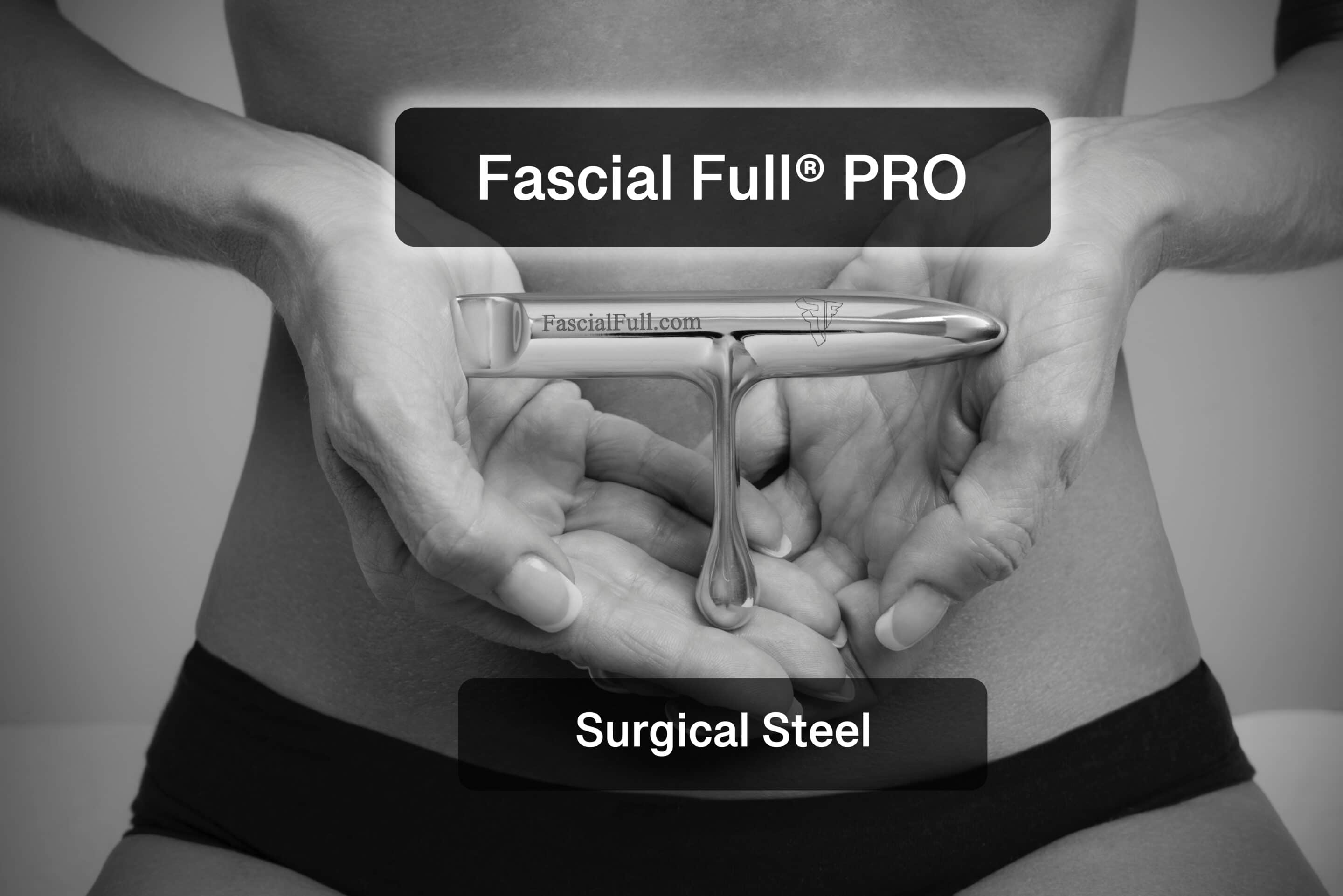 Surgical Steel (Solid and Practical)
PDF operating mode Guide included
In stock (can be backordered)
What are the differences between the Med version and the Pro version?
The main differences are in the material of construction, weight, certification:
– Fascial Full® Med is the top of the range version suitable for Health Professionals for support in the treatment of diseases and dysfunctions. It is made of a special aeronautical aluminium alloy that makes it extremely light (it weighs only 100 grams) and warm in contact with the skin. It is the version most chosen and preferred by physiotherapists (it is a Medical Device) because it also has the specific Medical Certification for products for medical use. The value is further enhanced by the PDF Manual included in the package.
– Fascial Full® Pro is the version suitable for Professionals working in the field of prevention and wellness. It is made of surgical steel, is solid and practical, weighs 300 grams and comes with a PDF Guide to Operating Procedures with practical photographic illustrations.
Both versions have constructional, design and ergonomic features that have been studied (and patented) to give you maximum efficiency (+95%), effectiveness, precision and selectivity in the treatment of fascia and soft tissues and a drastic reduction of the pain and overload to your hand (-94%) during manoeuvres.
What are the payment methods?
You can choose your preferred method of payment: Credit Card (including prepaid, as long as your card balance is greater than the amount of the order), Bank Transfer or PayPal (with PayPal you can also pay in instalments without interest). In any case, with any payment method, the transaction on this site is always 100% protected.
Can I pay for Fascial Full® in instalments?
Yes, you can pay in three instalments. If you select PayPal as payment method, you can choose, directly from your PayPal account during the purchase process, to pay in one instalment or to divide the payment into three interest-free instalments. This payment method is also 100% secure.
How soon will I receive my Fascial Full® after ordering?
Once you have placed your order, in most cases it takes approximately 48 working hours to receive your Fascial Full® at the address indicated in your order. Delivery times may vary on islands or other areas beyond our control. However, you can always track your shipment using the tracking code on your order.
© 2022 by Luigi Pianese | Sito a cura di Drop2Wave