The first professional Medical IASTM for physiotherapists and osteopaths (that saves your hands)!
Fascial Full® is the First Professional IASTM Certified for Medical Use that helps Physiotherapists and Osteopaths improve the quality of Fascial and soft tissue work by 95% and eliminate hand pain during treatment (-94%).
Some features:
Material: Aeronautical aluminium
Operating mode guide PDF supplied
Fascial Full® has already been chosen by HUNDREDS of PROFESSIONALS. It's the only professional tool for myofascial manualtherapy whose VALUE lies in its excellence:
LIGHTWEIGHT AND RUSTPROOF because made of an aviation-grade aluminium alloy (it weighs only 100 g!)
The GUIDE TO THE TREATMENT METHODS will allow you to get the most out of your Fascial Full

®

 and obtain maximum treatment effectiveness and efficiency right away.
It's quick and easy to clean and disinfect after each use.
Its distinctive shape with 3 tips makes it a multipurpose tool. Even the handle can be used.
Fascial Full

®

 is many tools in one.
Fascial Full

®

 is the only IASTM tool to be certified for medical use.

It's very easy to use.

It's the only IASTM tool with the Save Your Hands system!
It's created, designed, and made in ITALY
Fascial Full

®

 

is the HOTTEST tool in the physical therapy and osteopathy field. Hundreds of professionals have already chosen it.

But the most important reason why you should have Fascial Full

®

 is that it will allow you to enjoy your work and your time more.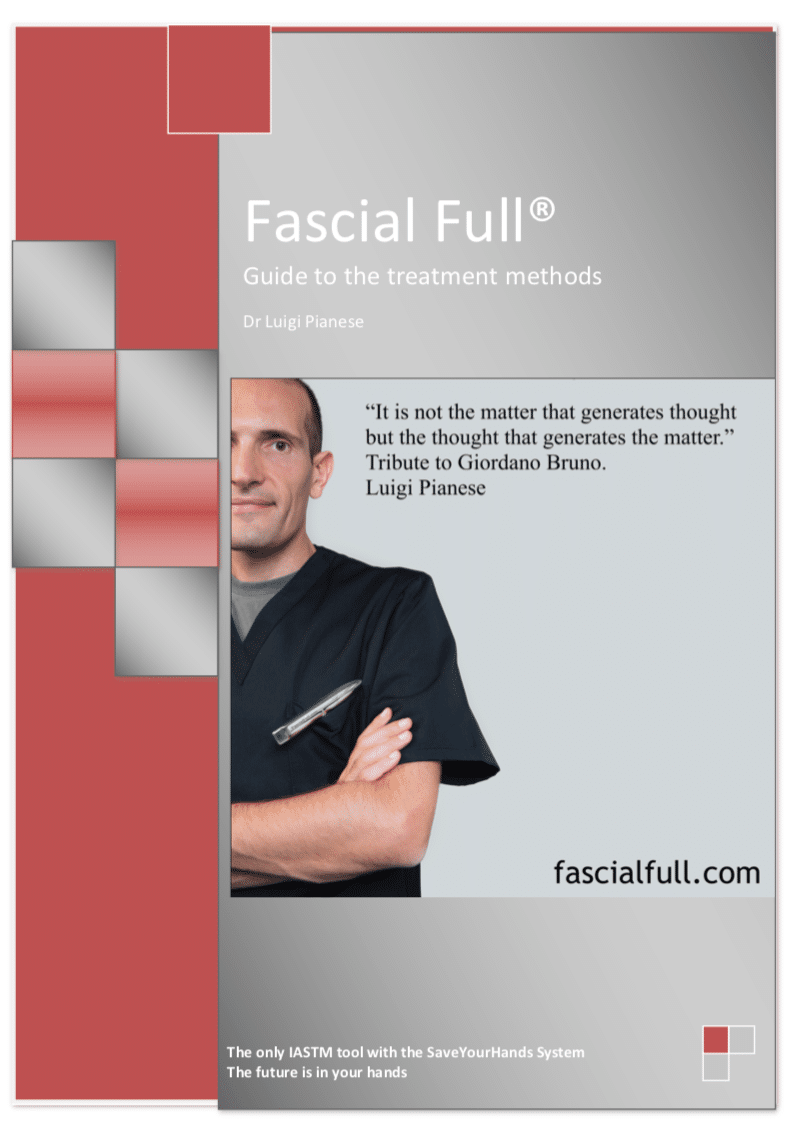 Biomechanical overload on Physiotherapists' hands:
Scientific Publications
Here are some of the dozens of studies on PubMed on hand problems for Physiotherapists, Osteopaths and Chiropractors. All very clear that it is a widespread problem and that prevention is absolutely necessary:
4+1 REASONS YOU HAVE TO TRY IT:
It makes your treatments BETTER and more SELECTIVE
Extremely pleasant to the touch!
Easy to use, carry, and clean
It allows you to work on your last patient of the day with the same quality as the first one
+1. It's the only professional IASTM tool certified for medical use
HERE ARE SOME OF THE TREATMENT METHODS FOR WHICH FASCIAL FULL

®

 IS AN EXTRAORDINARY TOOL:
Cyriax Deep Transverse Massage also known as Deep Friction

Fascial Fibrolysis

Fascial Manipulation (Osteopathic, Bienfait, Travell and Simons, Stecco, Rolfing)

Trigger Point

Shiatsu

Connective Massage

Acupressure

Reflexology

Kinesio Taping (adjuvant for)
GET IN TOUCH FOR MORE INFORMATION
Fill out the contact form below with your name, email, phone number, and message. For further information, read our privacy policy.

We'll send you news and information without invading your privacy and, in any case, no more than once a week.